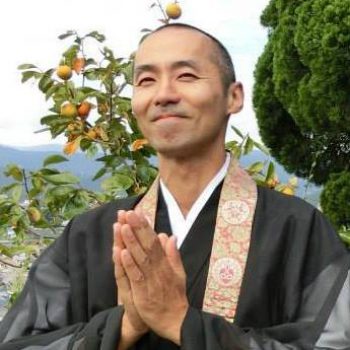 A message from Mr. Tamaki, our chair trustee.
There is a famous stone basin in Ryoanji temple in Kyoto. The stone basin has a square dip in the middle, which is shared by four Chinese characters to complete each meaning. In a clockwise, it reads "吾唯足知 (Learn only satisfaction)".
 This verse is an ultimate wisdom that our masters have left, among Bushi-do (Way of warrior), Zen, Flower arrangement and Tea ceremony, all of which share the long traditions in Japan. 
 However, as a desperate response to the harsh and striving environments during and post war, in which we suffered from shortage of daily necessities, we have mistakenly applied a concept that "only money solves everything and makes us happy". 
 It is explained that we have used GNP and GDP as measurements for happiness in Japanese society after the war. But these are not the numbers to truly reflect our happiness.  For instance, although we were proud to be the world second GNP rate, it included unnecessary public spendings, development of atomic power plants, toxic additives in food and development projects that simply destroyed the environment. GNP cannot measure our beautiful earth, kind words, courage, love, humbleness and children's wellbeing.
 I believe it is far long way to reach true happiness, unless we firmly shift our weight on the wisdom of "ways of being" that our ancient masters found from prioritisation of "money and materials" in this lost era when most of the politicians and business leaders have been blinded to see what the true values are.
 Why are there endless problems and many people whose life purposes are lost in our society, even though there are plenty of materials we can buy and throw away??
 On the other hand, why are these  people living in rural Thailand, who are grateful and content with their life, even though they are orphaned, illiterate, and living on the verge of poverty?
 In some countries, people have lost the true value in life among too many materials.
 In some countries, beautiful traditions and cultures have been lost, because of exploited people and resources by other countries. 
 In this 21st century, when we cannot ignore interconnectedness among countries to learn to be a better world, we could find true and forgotten values from these marginalised populations in Thailand. 
 I believe that it is meaningful to reflect and rethink about your existence and life purposes, asking yourself for what you are living right now.
It is believed that each individual has a life and spiritual purpose. 
 This is what you are born with, not what you are taught.
 Rainbow School wants to begin with coexistence between us, the humans and nature, and deepen the philosophy based on this way of existing. 
 We wish the world to be the better place where our friends can explore and discover their own possibilities and values. 
I have been deceived so much and tired by people who show no empathies and the merciless societal system these people created. 
 However I feel encouraged by seeing and feeling something beautiful in this world. 
 These could be birds chirping, green forests, gust of wind, children's shining eyes and warmth of a dog. 
 I want to be of help for myself and others who may be suffering, by doing something that I can continue little by little.
 A seed of hope enriches the earth that we all need. 
 May my pathway come across with yours at one point.